Summary
This day tour is sure to top your list as you plan your exciting adventures on Koh Samui. As a top destination, about 2,000+ visitors pass through the park daily. That said, our tour is specifically designed to allow you to enjoy the most sought-after attractions and activities while no one else is!
Location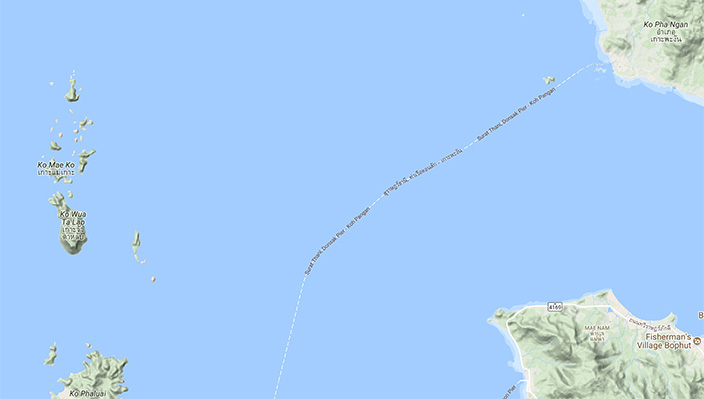 Departing for Ang Thong Marine Park
Step aboard our luxury yacht at Samui`s inner river jetty and meet your friendly crew for the day. After a brief description about the yacht's facilities, safety procedures and what awaits you, take a moment to explore the yacht while familiarizing yourself with one of the many sunny or shaded areas on our decks.
Begin your journey at the southwest of Koh Samui towards the Five Islands. These islands hold a mysterious and rarely seen phenomenon, such as the harvesting of bird`s nests.
Voyage to Ang Thong Marine Park
Voyage towards the northernmost corner of the park and savor delicious appetizers as you cruise. Explore the magnificent scenery of the Gulf of Thailand, where dolphins and whales make their home. Arrive at the park's most remote and magical spot, exclusive to our tour.
Optional sea kayaking: Go for guided sea kayaking along the coastline to explore, the Secret Lagoon, sensational cliffs and magical tunnels that are only found at this location. Spot secluded picturesque beaches and their crystal clear, calm waters. Alternatively, hop on our dinghy that accompanies the kayaks.
Snorkeling: Venture out of the park to the Ko Wao islands, where you will find the best snorkeling sites. As the only non-speedboat vessel to reach this destination, we can select the optimal site.
Lunch & Voyage: Enjoy freshly prepared Thai-fusion cuisine, prepared from scratch by our chefs, while you journey through the 42 islands of the park; home to hidden lagoons, spectacular clifftops, and limestone rock formations.
Emerald Lake Island Visit: Relax on the beach or climb up the steps through dense rain-forest and narrow ravines to see a beautiful viewpoint overlooking the surrounding islands. Take a stroll down the steps to witness the hidden saltwater lake completely enclosed by walls, nicknamed The Blue Lagoon (inspired by the movie The Beach).
Head to Koh Samui - Sunset Cruise
Cool down with a few drinks, take a dip in the jacuzzi, and enjoy the magnificent scenery. As you voyage, take a glimpse back and embrace the inspiring views of the islands as they sillouette off the radiant sunset.
Note
Early booking discounts of 100THB per adult and 50 THB for children are available when purchased a minimum of 3 days before the tour date.
Please note that semi-private tours are exclusively offered and operated by Tours Koh Samui who rent the yachts from us.